Purpose: 
This Infection Prevention School Program is designed to train students, faculty, and staff members to be more hand aware to prevent the spread of respiratory and gastro-intestinal diseases within the school.  Our goal is to create an Infection Prevention Partnership with your school by instituting this Program. A school will see a decrease in the incidence of absenteeism due to illness if they maintain the partnership with this Program. Remember, a healthy student is a better learner.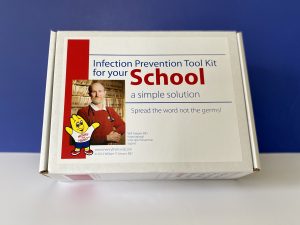 Method:
Who:
The Infection Prevention Tool Kit makes it simple for anyone to teach the 4 Principles of Hand Awareness. Teachers, school nurse, educational assistants, parents, wellness committee members, college or high school students, and community members are encouraged to teach this program.  This Infection Prevention Program for School is a self-explanatory cookie cutter Program based upon the 4 Principles of Hand Awareness, which were endorsed by the AMA and the AAFP in 2001. When your school establishes a partnership in teaching primary Infection Prevention with Dr. Will Sawyer and Henry the Hand Foundation Team you will see a benefit to the health and wellness in your school community.
We recommend that each school identify a "Champion" to oversee the implementation of the program.  This could be anyone who is interested in seeing the program implemented throughout the school to achieve its greatest impact.  They do not need to be the one to teach all the students, but simply to help organize those who will be teaching the students and staff.
What:
Dr. Will Sawyer, International Infection Prevention Expert, and his team created the Infection Prevention Program for Schools that utilizes the Infection Prevention Tool Kit.  The program is based on the 4 Principles of Hand Awareness and strategies to effectively and sustainably change human behavior.
Hand Awareness is defined as hand hygiene, respiratory etiquette, and cross contamination awareness, particularly focused on the unconscious behavior of self-inoculating the mucous membranes of your eyes, nose or mouth .  The program is not limited to hand washing.  It is about hand awareness, which in laymen's terms is described as knowing where your hands are and what they are doing at all times. This science based multi-media and multi-sensory behavior modification program will benefit the health of every student and staff in the school. And includes their families when the students share the lessons from school.
How:   Implementing the innovative techniques and tools of this Program into a school's culture will help develop the life long practice of the 4 Principles of Hand Awareness.
The Infection Prevention Tool Kit utilizes Henry the Hand as the change agent which makes teaching Hand Awareness (hand hygiene, respiratory etiquette and cross contamination) simple, fun and memorable with very effective demonstrations and reinforcement tools.
Another attribute is its simplicity.  Anyone can present and demonstrate the Program. Repetition is the key to achieving effective behavior change.
The teaching demonstrations can take anywhere from 5 to 30 minutes depending on the level of detail and explanation.
To achieve the best results, this program should be taught to the whole school community 3 or more times each school year and use the simple reinforcement tools often.

September – "Back to School" during International Clean Hands Week
December – National Handwashing Awareness Week before the holidays
March – Patient Safety Week

The Classroom Handwashing Chart serves as a great reinforcement tool and friendly competition instrument both in and between classrooms.
Remember: a presentation, without demonstration, is merely a conversation
The Infection Prevention Tool Kit will satisfy the School of up to 300 students.  Additional supplies are available for larger schools.  Another great option is to implement the Program in an individual Classroom up to 30 students. The Tool Kits are available for purchase here.
Contents : Supplies up to 300 students
1 Curriculum
1 4 Principles Poster
1 Germs on Your Hands Poster
1 Handwashing Instruction Guide Poster
1 Do Not Touch the T Zone Poster
1 Laminated Classroom Handwashing Chart
1 Activity Book
1 Home Hand Washing Chart
1 Germs on Your Hands Take Home Activity Sheets
1 School Visit DVD
1 CD with Songs
1 Puppet
1 Health Shield – Standard
1 Germ Potion – 8 oz
1 LED Black Light
1 Respiratory Atomizer
1 Operant Conditioning Clicker
1000 Champion Handwasher Stickers (2.5″)
10 Champion Handwasher Stickers (1″)
50 T-Zone Stickers
400 Tattoos
10 Handwashing Instructions Vinyl Repositionable Decals
1 Nail Brush
Below you will find tools that can help your school become a Champion Handwasher School.