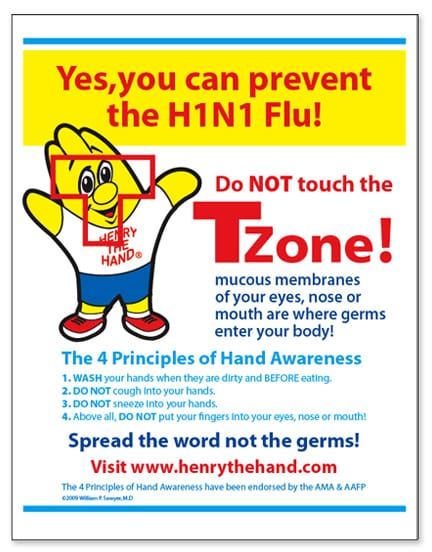 PLEASE  DOWNLOAD or EMAIL these Posters to PREVENT the H1N1 FLU(Swine) FROM SPREADING ANY FURTHER!! It is no longer called the Swine Flu.
Pass this information on to your friends, family and schools in Mexico and the U.S. to REDUCE their chances and FEAR of contracting the H1N1 Flu (Swine flu) by STRICTLY adhering to (practicing) the 4th Principle of Hand Awareness!!!
DO NOT TOUCH the T ZONE!!!
Remember if WE ALL comply with the 4 Principles of Hand Awareness there will NOT be a Pandemic!!
The H1N1 Flu will become a minimal event! Powerful and True!!
Together WE CAN make a difference!
Thank You!
Will Sawyer MD, aka "Dr.Will"
513-769-4951
Cincinnati, Ohio
Bev Kirk - Creative Director Kalamazoo, Mich.
Please contact us, as we are happy to "Lend a Hand"!