WELCOME TO HENRY THE HAND!
Keeping schools healthy by teaching the 4 Principles of Hand Awareness!
We are a non-profit located in Cincinnati that offers Infection Prevention Tool Kits for early childhood centers, pre-schools and schools that help teachers and school nurses educate young children and students to the benefits of hand washing (hand hygiene), respiratory etiquette (safe coughing and sneezing habits), and not
touching your eyes, nose, or mouth (T Zone).
Spread the Word, Not the Germs!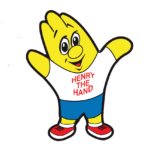 Health Shields as a tool for changing hand habits AND infection prevention!
Check out our most popular products including health shields, tool kits, nailbrushes and bookmarks!
Dr. William Sawyer — Founder
About Dr. Will
Founder of Henry the Hand Foundation: Hand hygiene awareness advocate as seen in The New York Times and Washington Post
33 years as a Solo Practice Family Medicine Doctor teaching, coaching, and changing patients' behavior to benefit their health.
Research

The Effect of Knowing HAIs That Are On The Ward and Hand Hygiene Compliance, Bethesda North Hospital 2010

Clean Hand Coalition, Co-founder of a CDC and Prevention coalition: 2003-Present

Presentations:

Cincinnati Red Cross H1N1 Pandemic Program Sept 9, 2009
Interventions to Prevent Influenza and Influenza Like Infections in the Retail Clinic Setting, RCEC 2013
Hand Awareness presentations: Non Pharmaceutical Approach to Prevent Human Illness and Transmission of Emerging Pathogens presentations; NEHA 2006, NAHEC 2006 and USDA Food Safety Conference, 2006.
Human Factor Engineering and Positive Deviance Strategy to Reduce HAI: Summit, May 2007
Keeping schools healthy by teaching the 4 Principles of Hand Awareness. 
Spread the word, not the germs!