WELCOME TO THE HENRY THE HAND FOUNDATION!
Our mission: Training students and adults simple effective hand hygiene behaviors to prevent infectious disease illness benefiting personal health and wellness by teaching the 4 Principles of Hand Awareness*.
We are a non-profit foundation founded in 2001 by Dr. William Sawyer who identified a need to train the individual in personal protective hand hygiene behaviors to benefit health. We developed a simple science based multi-media and multi-sensory hand hygiene behavior modification program teaching hand hygiene, respiratory etiquette (correct coughing and sneezing habits) and cross contamination awareness: not touching your eyes, nose, or mouth (T Zone). Our Infection Prevention Program comes in a Tool Kit utilizing effective reinforcement tools and strategies to teach both children and adults the 4 Principles of Hand Awareness. Dr Sawyer understood that if you do not train the adults, the children will never model these behaviors. By adopting our Infection Prevention Program in early childhood centers, preschools, and schools you will train young children and students to become lifelong practitioners of these important life skills that will help reduce respiratory and gastro-intestinal infections.
The 4 Principles of Hand Awareness:
1. Wash your hands when they are dirty and before eating.
2. DO NOT cough into your hands.
3. DO NOT sneeze into your hands.
4. Above all, DO NOT put your fingers into your eyes, nose, or mouth.
*The 4 Principles of Hand Awareness are endorsed by the American Medical Association and American Academy of Family Physicians. 
SARS CoV-2 has taught us that it is more important than ever to be more intentional about our effort to teach these hand hygiene personal protective behaviors.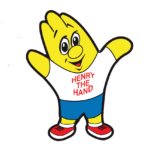 Schools need access to a program that teaches students how to stay healthy- sponsor a school today!
Health Shields as a tool for changing hand habits AND infection prevention!
Check out our most popular products including health shields, tool kits, nailbrushes and bookmarks!
Dr. William Sawyer — Founder
About Dr. Will
Founder of Henry the Hand Foundation: Hand hygiene awareness advocate as seen in The New York Times and Washington Post
33 years as a Solo Practice Family Medicine Doctor teaching, coaching, and changing patients' behavior to benefit their health.
Research
Clean Hand Coalition, Co-founder of a CDC and Prevention coalition: 2003-Present

Presentations:
Teaching the 4 Principles of Hand Awareness. 
Spread the word not the germs!